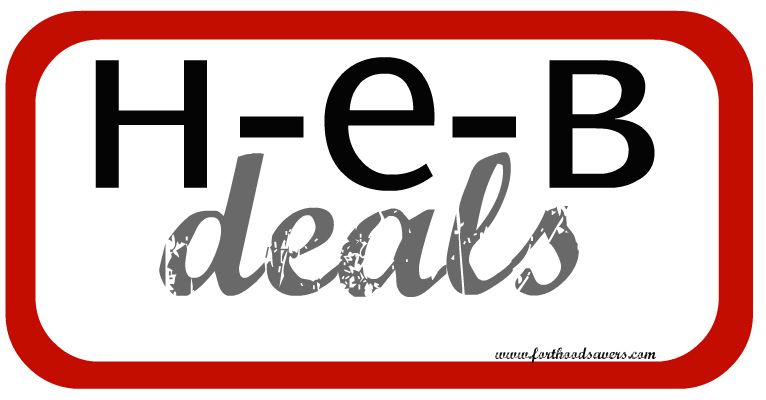 Here are the best deals this week at HEB. One nice thing about shopping at H-E-B is that most the coupons are available right in the store so no need to clip a thing! Just pick up the yellow coupon in store for the deals listed below and you are good to go (of course if an additional coupon is applicable be sure to bring it in too)!If you are new to H-E-B shopping you can check out the 
coupon policy here
.
Remember that H-E-B's new coupon policy took effect on 1/29/2013 and stacking a store coupon with a manufacturer coupon is no longer permitted. You can still, however, use coupons in conjunction with the Buy This, Get That Deals. Another policy update took effect on 3/4/14, you can read more about that 
here
.
***Pricing in these matchups is obtained via store walk-throughs and past deals. Prices can vary from store to store (even between stores that are just minutes apart) so you may find your store's pricing to be slightly higher or lower, but this will give you a good idea of what you can expect to pay for each deal when planning your shopping. Make sure to download the 
Ibotta App
 and 
Checkout 51
 before you head in to earn cash back on your purchases.
Meal Deal:
Buy Oscar Mayer Deli Fresh Lunchmeat 16 oz., or Oscar Mayer Ham Lunchmeat 16 oz., baked, boiled, smoked or honey,
Buy Kraft Natural Big Slice Cheese 7 – 8 oz., assorted varieties –
-Get Free Kraft Sandwich Shop Mayo 12 oz., assorted varieties (in-store coupon)
-Get Free Velveeta Cup, 2.19 – 2.39 oz., original or 2% (in-store coupon)
-Get Free Kool-Aid Unsweetened Drink Mix 5 pk., assorted varieties (in-store coupon)
-Get Free Oscar Mayer P3 Portable Protein Pack, assorted varieties (in-store coupon)
-Get Free American Children's Book, assorted titles (in-store coupon)
Final Price= (Free Items Value $6.33)
[Read more...]